School News
ASAA Curling Provincials
Posted on

March 11th, 2019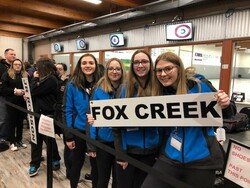 From Wednesday, March 6 to Saturday, March 9, the Senior Girls Curling Team (Faith MacKay, Sarah Norman, Elaina Adamson, and Codi Peavoy) traveled to St. Paul to compete in the ASAA Curling Provincials.
The top 10 teams in the province, in each of girls, boys, and mixed categories, competed in tournament play.
Our Fox Creek team competed against very experienced curlers and represented the school and the community well.  Although we did not have a win, the girls were pleased with how they played and are looking forward to next season. Many friendships were made and their eyes opened to some possibilities when involved with competitive curling.