Back to all posts
Posted on
Post Secondary Offers!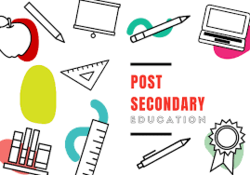 Congratulations!

All semester, students have been receiving offers to post secondary institutions all over Alberta.  It's always a source of pride when students pursue further education and vocational training.

Hailey Marinus--offer from MacEwan University--Open Studies--Hailey has accepted the offer.
Brooke Mayne--offer from University of Lethbridge, Bachelor of Science
Lillian Schmidt--offer from University of Alberta, Bachelor of Specialization in Science, Biochemistry--Lilly has accepted
Lucas Martin--offer from University of Calgary, Bachelor of Film Studies--Lucas has accepted.
Abagail Schnell--MacEwan University--University Preparation--Abagail has accepted.
Grace Lutz--offer from University of Lethbridge--Pre Bachelor of Science/Bachelor of Education--Grace has accepted.
Sawyer Smith--offer from Lakeland College, Wildlife and Fisheries Conservation--Sawyer has accepted.

We are looking forward to adding to the list as more students apply and accept offers.