Back to all posts
Posted on
Tour Group Payment Plan Options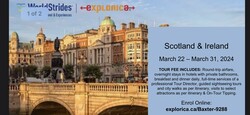 TOUR GROUP: Payment change options for families due to wildfire hardship.
Please read the following information from our tour organizer, Kirby, regarding payment plans for the upcoming 2024 trip to England and Ireland.
"I hope everyone is doing as well as you could be considering the current circumstances!What we can do for your families that are on the monthly automated payment plan, is we can switch them to the 4 step manual payment plan. As a reminder, the rules for the manual payments are as follows:
4-Step Manual Payments:
1) Pay your $99 deposit and travel protection plan costs upon enrolment,
2) $500 toward your Tour Fee 30 days later, and
3) 75% of your remaining balance at 110 days prior to departure.
4) The final remaining balance is due 65 days prior to departure and can be paid by cheque, credit, or chequing account.
By making this change, the next payment due will be December 3, 2023, which gives some time and space to relieve some of the burden."
** If you are wanting to switch your payment plan type, please email ian.baxter@ngps.ca as soon as possible. Include both the student and parent name in the email.